This first edition of SELKS 4 is available from Stamus Networks thanks to a great and helpful feedback from our open source community - Thank you! This new major release features a version jump for all the main software stacks. Suricata switches from 3.2 to 4.0, Elastic stack is ugpraded from 2.5 to 5.5 and even Debian is now Stretch, the latest stable release.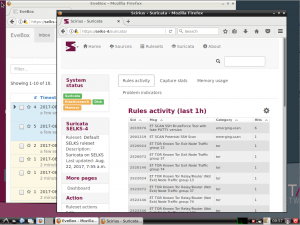 SELKS is both Live and installable Network Security Management ISO based on Debian implementing and focusing on a complete and ready to use Suricata IDS/IPS ecosystem with its own graphic rule manager. Stamus Networks is a proud member of the Open Source community and SELKS is released under GPLv3 license.
This is a major new release featuring all components upgrade and of course latest Suricata.
New Features
Suricata IDS/IPS/NSM 4.0.x - latest Suricata packaged with Hyperscan enabled for extra performance boost. The latest edition of Suricata among many fixes and improvements includes:

extra alert data like for example http body added to the alert json logs wherever available
protocol renegociation which means STARTTLS and CONNECT support

Major upgrade from Elasticsearch/Kibana/Logtsash (ELK) 2.x to the ELK 5 stack making available a ton of new features and enhancements.
Scirius 1.2.4 - bugfixes, better correlation capability with EveBox and introduction of IPS rules support.
Evebox - many new features including reporting and comments on the log events.
Debian Stretch - All new OS features, kernel and tools.
As always - as a Stamus Networks extra sauce the latest stable kernel (4.12.8 at the time of this writing) is available for install if you wish.
Download
To download SELKS 4:
Usage
To remotely access the web management interface :
Usage and logon credentials (OS and web management user)
user: selks-user
password: selks-user (password in Live mode is live)
The default root password is StamusNetworks
Visual tour
Some visuals to give you a glimpse of the things you can do with SELKS.
Howto
Upgrade from SELKS 3
To upgrade your existing SELKS 3 to SELKS 4 preview, please refer to SELKS-3.0-to-SELKS-4.0-upgrades wiki page.
Create your own ISO
SELKS 4 is available for download ready to use (as explained at the beginning of the article).
However - if you want to you can create and/or customize your own SELKS 4 ISO
Once installed
Please refer to Initial Setup section of the documentation
Recommended initial set up for SELKS 4.0 is 2CPUs 5-6Gb RAM
If you need to reset/reload all the dashboards - you can do like so

In Scirius on the top left corner drop down menu select System Settings
click on the Kibana tab
choose Reset SN dashboards
Feedback is welcome
Any feedback as always is greatly appreciated! :)
Give us feedback and get help on:
Freenode IRC on the #SELKS channel
Thank you!