On 25 March 2022, my colleague Ed Mohr and I will be attending the Cyber Security Summit in Atlanta. We will be showcasing the Stamus Security Platform in the exhibit hall and are excited to meet with enterprise security teams and several of our partners. If you plan to attend, please stop by and say "hi."
In addition, we are pleased to announce that Stamus Networks co-founder and Chief Security Officer, Peter Manev, will be joining a panel session entitled "Ransomware and Resiliency – To Trust or Not Trust?" in the afternoon.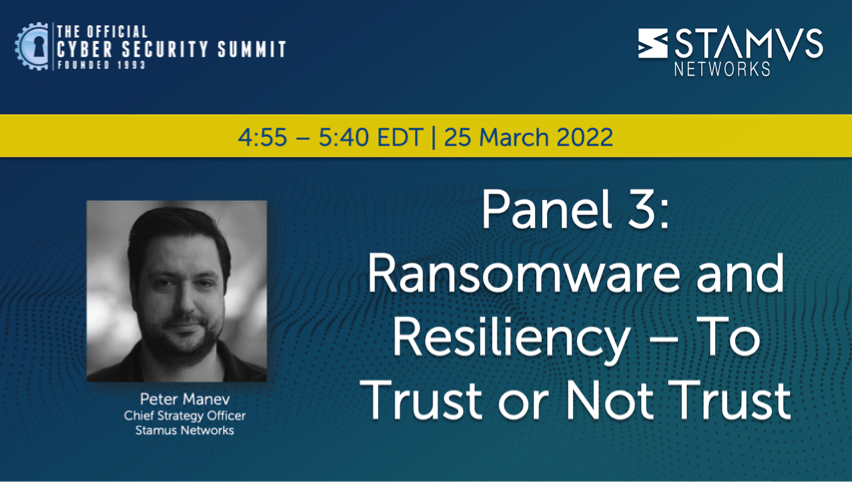 The frequency and impact of ransomware attacks continues to affect organizations around the world, making this a particularly important topic for discussion. And it was, in fact, a topic of one of our most recent blogs, Threats! What Threats? Combatting Ransomware with Stamus Security Platform.
So on 25 March Peter and the panel of experts will take a deeper look into the "Zero Trust" model and will explore why network security experts are deploying it over traditional perimeter-based security. And the panel will contrast traditional perimeter-based security with zero trust and discuss how adopting the latter can help organizations stay resilient as ransomware threats continue to grow.
So, don't miss Peter Manev on 25 March at 4:55 EDT, visit our booth and say "Hi!" to Ed Mohr and me. Register here: https://www.engagez.net/node/1256453.